We supply all types of Office Furniture. Enquire Now
Sibanye Office Solutions - Cape Town office stationery & consumables supplier.
We provide a professional office equipment, furniture, and stationery services to businesses.
Our dedicated team is focused on building lasting relationships with our clients, with our high service levels and experience in the industry.
Computer & Printer Consumables
Adhesives & Adhesive Tapes
Our core business nature is:-
Stationery
Office Furniture / Furniture – Reception Areas
Computer Consumables & accessories
Rubberstamps
Printing.
Cleaning Products
We do presentation equipment:-
Whiteboards, Notice Boards & Accessories
Laminators & Accessories
Shredding Machines
Binding Machines & accessories
Canteen Furniture
Lockers
Our friendly and dedicated staff is very creative and resourceful – if we don't have it , we will source it!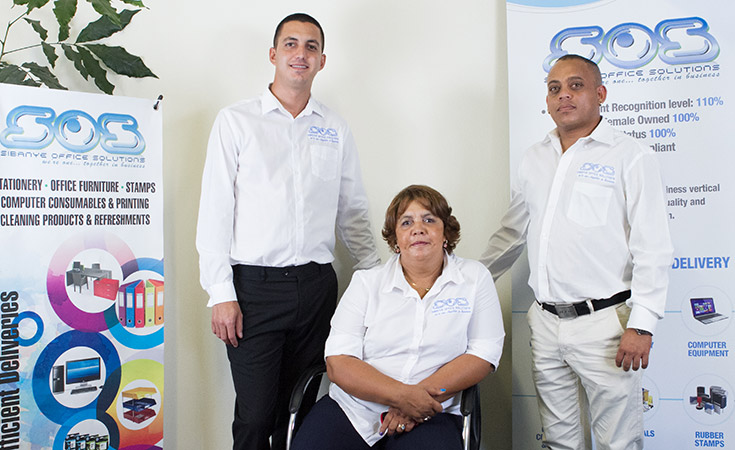 All your office stationery needs are available from us, under one roof. From our stores to your office desk! Sibanye Office Solutions (fondly nicknamed SOS) is wholly owned, managed and run by BEE personnel and in terms of its shareholdings Qualifies as BWO (black women owner) Gale Walters (CEO) and the only member is dedicated and passionate about her company and has increased it's client base and turnover with a tremendous speed and enthusiasm since the company's inception.
Gail has more than 29 years experience in the stationery industry and together with her team Sibanye Office Solutions prides itself with more than 45 years of  respective experience in this trade. Our prices are highly competitive and we offer an extensive range of quality office supplies/machines and scholastic stationery. Our stationery deliveries are free and the service that we provide to our clients is of paramount importance.
We guarantee fast, efficient and reliable deliveries. Methods of ordering from us is via e-mail, fax, telephone or a link to our website www.sibanyesolutions.co.za We have a highly qualified, trained and dedicated staff on our team and would love to be your preferred office supplier. The National Empowering Rating Agency (NERA) has scored us as follows:-
BEE Procurement Recognition level:- 135%
BEE Status:- 100%
Black female owned:-100%
Level 1 Contributor
Qualifying Small Enterprise
Our clients are also welcome to apply for credit. We offer 30 day accounts from statement. Why wait! Call us now and make our business a part of your success.